No Worries When Planning A Movie Night With Google's New Search Feature
Spring has just settled in and you know what that means, summer time's up next and lots of new movies coming out for you to plan a movie night! You've probably been working hard at school, work or prepping your summer time body at the gym, and now that the season is just around the corner, what better time could Google launch their new feature than now?
For all the movie lovers out there, maybe you can now have your cake and eat it after all. Thanks to Google, you can now access in details, all the information about which movies are showing around your area. And by detail, I mean everything about the movie in just under one app. How cool is that, right? It has always been a hustle when searching for where to go and what movie to watch at what specific time, bearing in mind that you are not even sure about the quality score of the movie.
Now all that is out of the window. You don't have to keep opening a hundred tabs to visit Fandango, IMDB and every other movie review website just to read what kind of opinions have been left by people. They have made the most simplistic way to access all your movie questions by just the click of a button on your smart device. Well, for starters, the movie industry had been rocked by a reduced turnout the last few couple of years thanks to online streaming services such as Netflix. These services enabled people to access a wide variety of award-winning TV shows, movies, documentaries and more on thousands of internet connected devices.
We can't deny that times have been changing and almost everything is now internet-enabled. Business for Netflix seems to be doing good so much that even Amazon, an online commerce company, has come up with their own service, Amazon Prime, to compete against likes of Netflix's big market share. The movie culture has been changing over time, but with this new Search Feature, Google has brought a technological game changer too in order to encourage more people to visit the theaters for a movie night just like it's supposed to be.
I'm sure people appreciate the fun that comes with getting out of the house and heading over to the theaters to meet with family and loved-ones to watch a movie under the company of total strangers. It brings a sense of belonging and if you'd ask me, I prefer going out than staying locked indoors with no one to share my popcorn with.
How Does It Work?
All you have to do is make sure your phone is updated to the latest version in your app store then go ahead to the search bar and key in "showtimes". Then Google will bring up the results of all the movie theaters around your area and a comprehensive list of which movies will be showing and at the stipulated time. Of course during this process you need to have your location settings on but if it's off, Google should bring a pop-up message highlighting you would get best results if you turned your location settings on.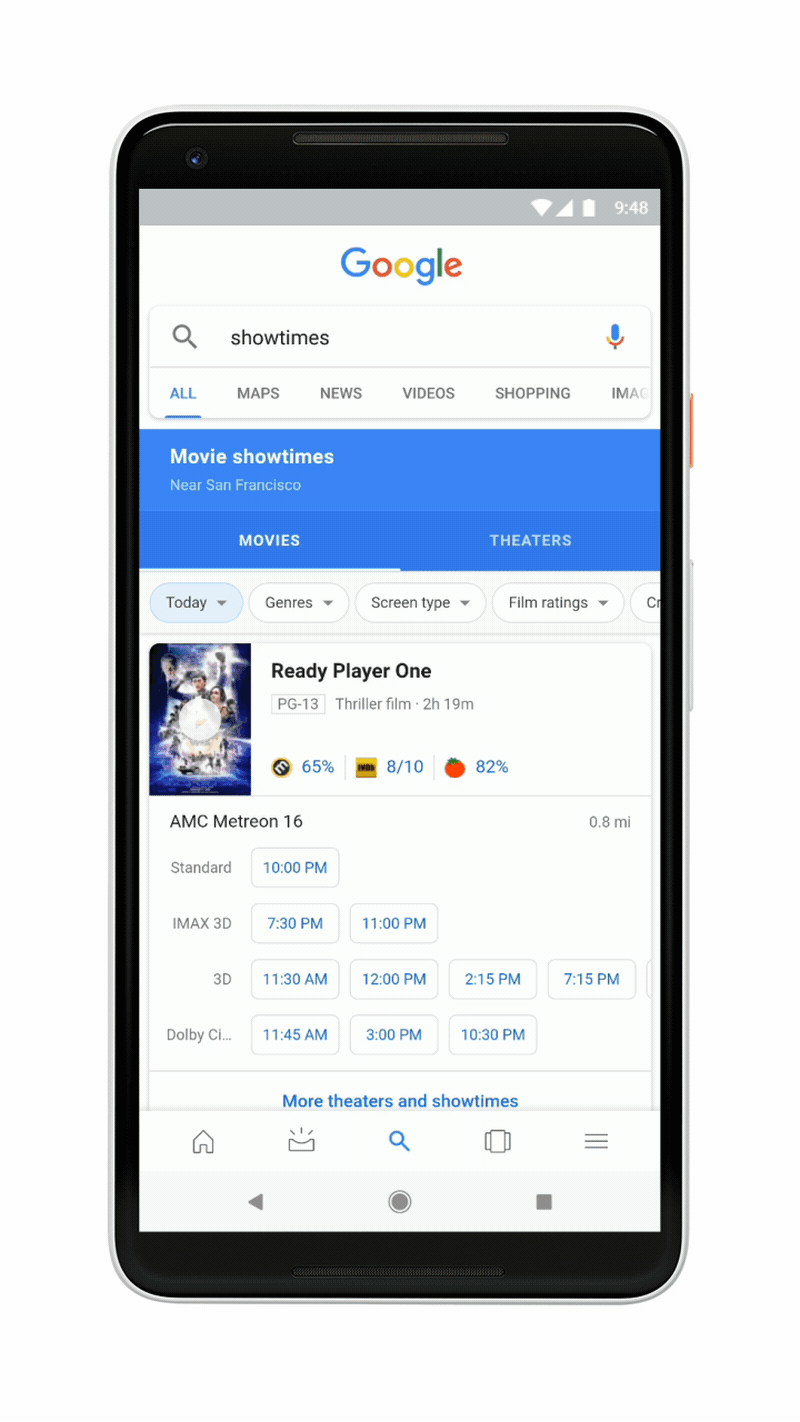 When you get to the movie that you like, click on it then a window with an "overview" and "showtimes" tab will be displayed providing a brief summary of the storyline, movie casts, link to the trailer, reviews from IMDB, Rotten Tomatoes and Metacritic. Under the "showtimes" tab, you will find a list, sort of like a timetable showing which day and time the movies will be airing and at the respective location. Once you are through with picking that step, another final window will be displayed showing you which avenue you would wish to buy your tickets from. Fandango, MovieTickets.com, AMC Tickets or ATOM Tickets, among other examples.
Does It Really Help?
All this process is done to ensure you get a smooth-running and well organized experience when hunting for that weekend movie night date or family time you have been planning to do, with ease. Now you don't have to go through that cumbersome process of searching on and on for the best sites to decide what to plan for your movie night. With the upcoming anticipated summer blockbusters, everyone has surely got to get a hold of this feature so as to book early tickets in the most efficient, and fast way you possibly can. I count this as a reliable way because you can always read reviews and judge out of watching trailers from the same page if you're not really sure if you want to pick that movie.
This Google Search feature is currently only available on mobile browsers in the United States and India. For iPhone users, you will have to wait a little bit longer as Google says it will release the feature for the Google app on iOS in the foreseeable future.